---
Starlink now mobile -
SouthernDevGirl
- 10-27-2022
Starlink has now officially begun offering an in-motion RV plan (continuous use while underway).  Their announcement:
In-motion Starlink is here! No more stopping to connect—stream movies, play games and make video calls all while moving towards your next adventure.
The Flat High Performance Starlink is now available for in-motion use with the Starlink RV service plan.
Orders can be placed immediately at
www.starlink.com/rv
With a wide field of view and enhanced GPS capabilities, it can connect to more satellites, allowing for consistent connectivity while on the go. The hardware is designed for a permanent installation and is more resilient to extreme environments.
The new offering is also available through 
Winegard
and can be installed at select RV dealerships nationwide.
Note: you can review their coverage area at:
https://www.starlink.com/map?source=rv
---
RE: Starlink now mobile -
Richard
- 10-28-2022
We have been using Starlink RV since July, albeit with the stand mounted dishie. It has been a great tool. There have been two unexpected upsides. The first is VOIP phone calls. many of the places we travel have sketchy cell coverage or none at all. We simply put the phones on air plane mode, and force the phone to use WI-FI for calling. The second upside is I know longer have to figure out at each new location, what is the best setup for internet, and then reconfigure all the electronica for that setup.
I like the idea of a flat mount roof setup. However, for now I will stick with the stand so that I can position out of the trees. Perhaps that was addressed with field of view enhancements. I will wait to see how the early adopters fare.
When we get home, one of the things on my list is to temporarily flat mount the dishie I have and compare download speeds vs the north facing orientation.
---
RE: Starlink now mobile -
SouthernDevGirl
- 10-28-2022
Richard, those are excellent points -- plus, it also appears the mobile program is more expensive. When I had originally pre-ordered Starlink it was $99/month. I don't know if that's the going rate, but I believe the RV/mobile-use program was $159/month.
However, I didn't read all the fine print and I could be misinterpreting something.
---
RE: Starlink now mobile -
encantotom
- 10-28-2022
i have two separate starlink setups. one at home and one at our cabin. both are residential. cost is 110 per month for each.
when i was in beta with my home setup (got it 18 months ago) it cost 500 dollars and is the older round dishy. when i got the one at my cabin about a year ago, it was still 500 and was the rectangular dishy. now the hardware is 600 for the residentail.
i live in a rural area where other internet setups were dsl (terrible), and various point to point wireless small companies that were unreliable and right not much cheaper.
our cabin is very rural and only solution was dsl which was typically around 1-5mb since i was at the end of the useful distance from the demarc. i have various home automation at the cabin and it is needed when i am not there. plus we stream everything nowadays.
i will say that over the past 6 month, my speeds have slowed down considerably with starlink during peak evening hours. not enough to affect anything, but way down and they seem to be throttling the upload speeds to 10mb now. didnt used too.
that said, no complaints as it is far better than anything else as of now
tom
---
RE: Starlink now mobile -
encantotom
- 10-28-2022
Starlink spacex launch last nite
Tom
---
RE: Starlink now mobile -
SouthernDevGirl
- 10-28-2022
Tom, that may be my new favorite Newell photo

Elon Musk posted a similar photo by Twitter yesterday, from a bit further out (Los Angeles)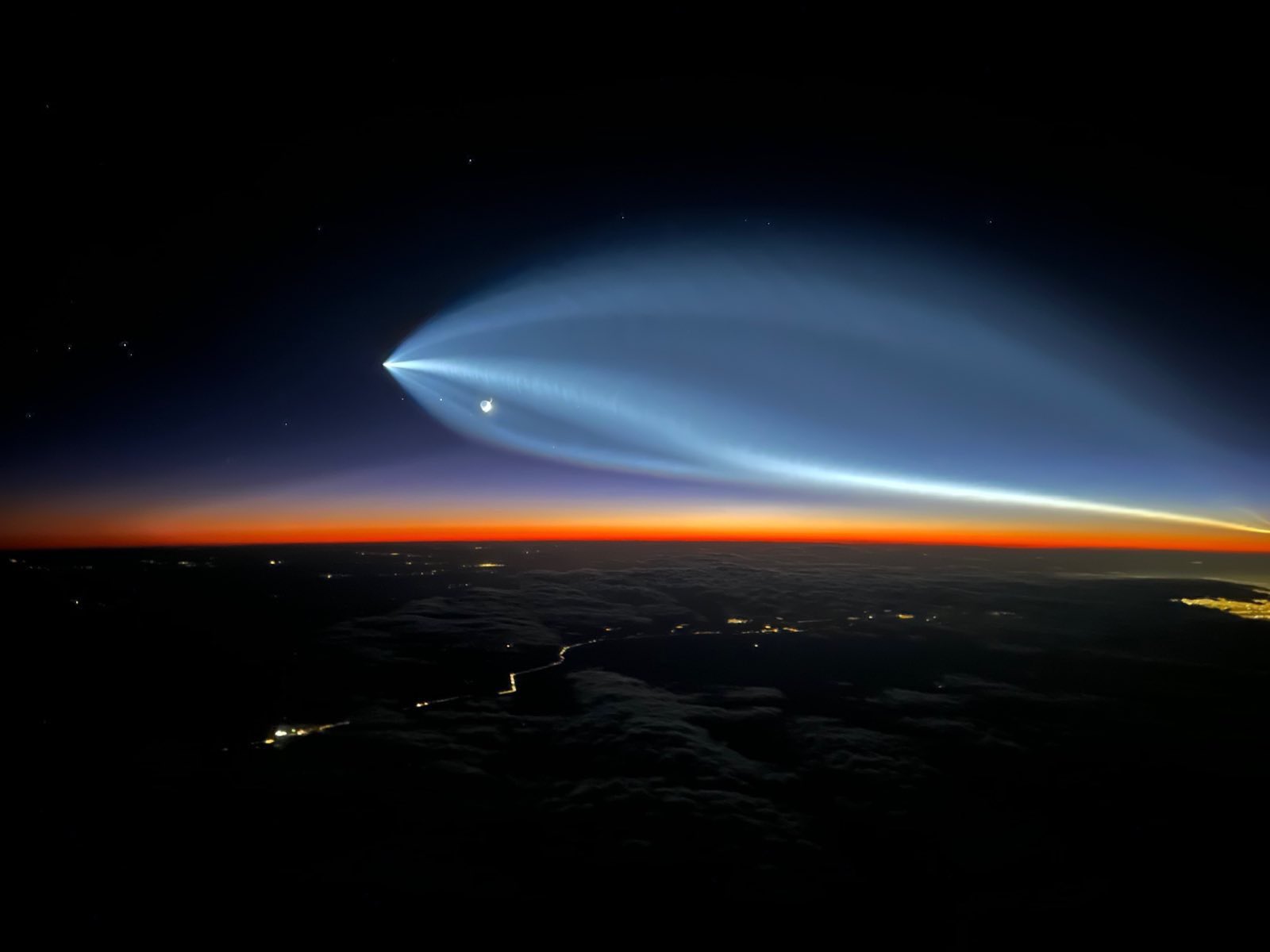 ---
RE: Starlink now mobile -
Jack Houpe
- 10-28-2022
My son was on the beta plan and I wanted it for the house here in the country as cox would not deliver high speed internet to our house which is 600-700 feet from the road so I paid for the plan of a neighbor and did a point to point till my starlink showed up, it never came 1 year later a guy to me to cancel the order and put in an order for an RV and it would go through. I did so and ordered it while in MI looking at an 92 Newell and it was on my doorstep when I got home.

---
RE: Starlink now mobile -
encantotom
- 11-02-2022
starlink has announced it will start having data caps i sent an inquiry to them through my account as to what the data cap will be before they start throttling me and this is the response i got on november 2, 2022
Hello Tom
Official communication about the Fair Use Policy will be released in the coming days.
Stay tuned and feel free to reach back out after the announcement if you have additional questions.
Thank you for the feedback.
---
RE: Starlink now mobile -
Guy
- 11-02-2022
I didn't get any communication from them about data caps yet
---
RE: Starlink now mobile -
SouthernDevGirl
- 11-02-2022
Tom,
When you mentioned the FUP it reminded me that Starlink utilized a "soft cap" in some deployments. Essentially it was 250GB prioritized. Anything over 250GB would be lower priority than those in the first 250GB.
Also, based on their AUP, they appear to imply a standard X% policy (the practice where ISP's claim that the highest bandwidth consumers, typically the 1-3%, are terminated or the cap is set based on that threshold).
This is one of the reasons it's nice to use a cached media center. For example, running something similar to Plex that will allow you to cache your content when you're on a non-metered connection.
---